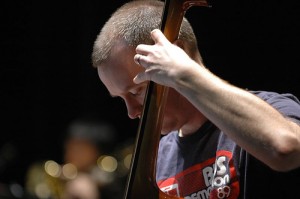 Based in Victoria, BC, Brayden Wise is a bassist, wind ensemble conductor, father, and sailor. Order varies.
Raised in Vernon BC, he began playing bass professionally at age 15. He joined the Canadian Forces and started post-secondary studies in greater Vancouver, kicking off more than a quarter-century of service to Canada through music. His education focused on Jazz Studies at Capilano University, and his military career has seen him spend time in the Navy, Army and Air Force, both full-time and part-time with work in wind ensemble and popular idioms, as well as composition.
He is a diverse bassist, with numerous commercial and wind ensemble recording credits, as well as film and TV work. As a conductor, he is the Associate Director of Music and Senior Musician for the Naden Band of the Royal Canadian Navy.
Brayden holds a Bachelor of Music in Jazz Studies (Performance/Composition) from Capilano University. He is a member of the Canadian Federation of Musicians Local 247. He spends his spare time in active pursuit of human-powered adventures, occasionally fuelled by home-brewed beer.
Brayden resides in Victoria with his partner, Sara and their children.