I've been thinking about tattoos for almost as long as I can remember. I've been fascinated by them for about thirty years, as a matter of fact, in all kinds of ways. Long has been my want to get tattooed, and it's been a very long road to be comfortable enough with myself to bring myself to go and do it.
When I got posted to Victoria, I started to do things a little differently. I started to actually allow myself to be me. Some of this came out of some really great therapy work, and the rest of it just came out of sheer will to want to do things for myself. For the bulk of those thirty years where I've been thinking about getting tattooed in a bigger way, I finally decided to do something about it.
I had been worked on previously by a fellow named Mikel Johannsen, who, at the time, worked out of a shop in Victoria. He'd traveled to Red Deer and I met him there to work on a smallish piece on my right arm, but the time had come for something bigger. After seeing the Bobby McFerrin video on the power of the pentatonic scale, the idea started forming to do something related (abstractly) to melody on my left arm.
I sent a long essay to Mikel, hoping he could transform that into action.
By this point in time, Mikel had moved to Kelowna, and I'd been posted to Victoria. It didn't take much to put two and two together, and the next thing you know, I'd booked myself in to start my sleeve.
First session was in March of 2015. I walked into the shop in Kelowna, Mikel pitched his idea, and we went for it.
The first session was outlining three of the five figures in dots. 
Of course, I'm not that smart, so as soon as we were done, I jumped in the truck and drove straight to a friend's retirement party in Vancouver, then crashed the night at the house of one of my bestest friends, before heading onward to Victoria to start my new job.
Part of the joy of my new job is that Kelowna happens to be in the turf we ordinarily serve musically, so when I found out that we were booked in to play in the Okanagan that summer, I booked another session. On this go-around, we filled worked on filling in the figures with more dots.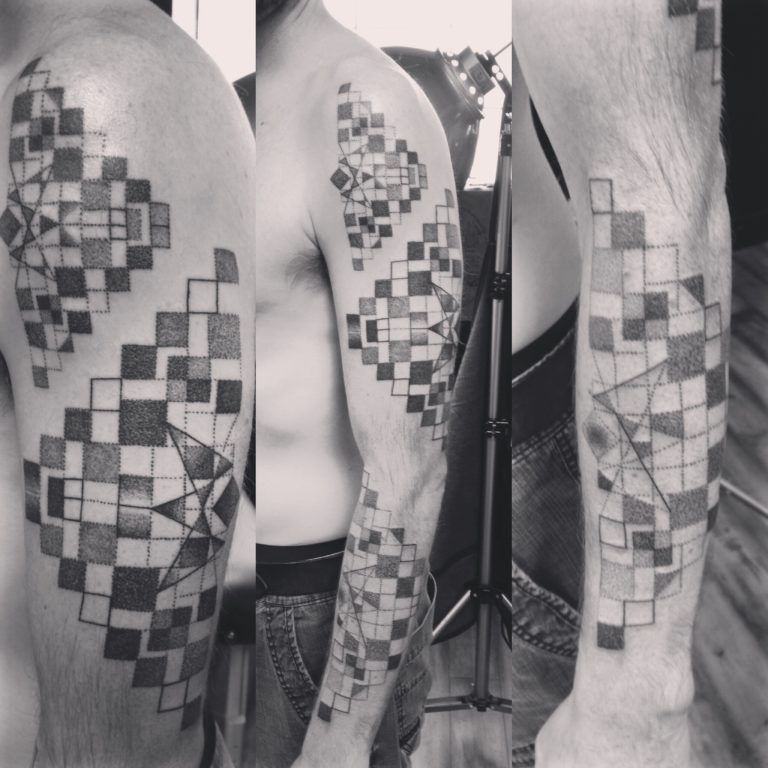 Mikel and I talked and talked throughout the whole process – he had a background in audio engineering, having worked for a spell at Nettwerk Records in the 90s, and we had different, though occasionally similar, tastes in music, which always led to great discussions. On this session, we were exploring some of the nuances in music, and for the figure on my lower arm, we talked about how sometimes music just didn't go where you expected, and things could be random, hence why the patterns aren't as regular on that piece.
Flash ahead to Christmastime, and I made a quick trip up to see my folks between having finished my work run for the year and having the kids with me over the holiday. Squeezed in a quick session with Mikel to start and finish figures 4 and 5 (inner arm for both). A spicy affair, for sure, as the tender fleshy bits got mangled.
At this point, things started to diverge a little on the path of where I expected this piece to go. I had an idea in my head that I had pitched to Mikel as a next step, and it didn't exactly go where I wanted it to. I had wanted to have a very subtle background in the negative space between the figures, using music motifs. What ended up coming out was a little less subtle, and altered the course of where we would be headed. For this session, I flew up to Kelowna for a day trip – I found out that cheap flights were available from Pacific Coastal, and so I used as many modes of transportation available to me as possible to make this session a reality. At the end, the result wasn't exactly where I wanted it to be, but Mikel and I decided to just let it sit, give it a little time, and come back to it on a future session. He took pics, but never posted them, and this one shot was the one I snapped in the airport on the way home: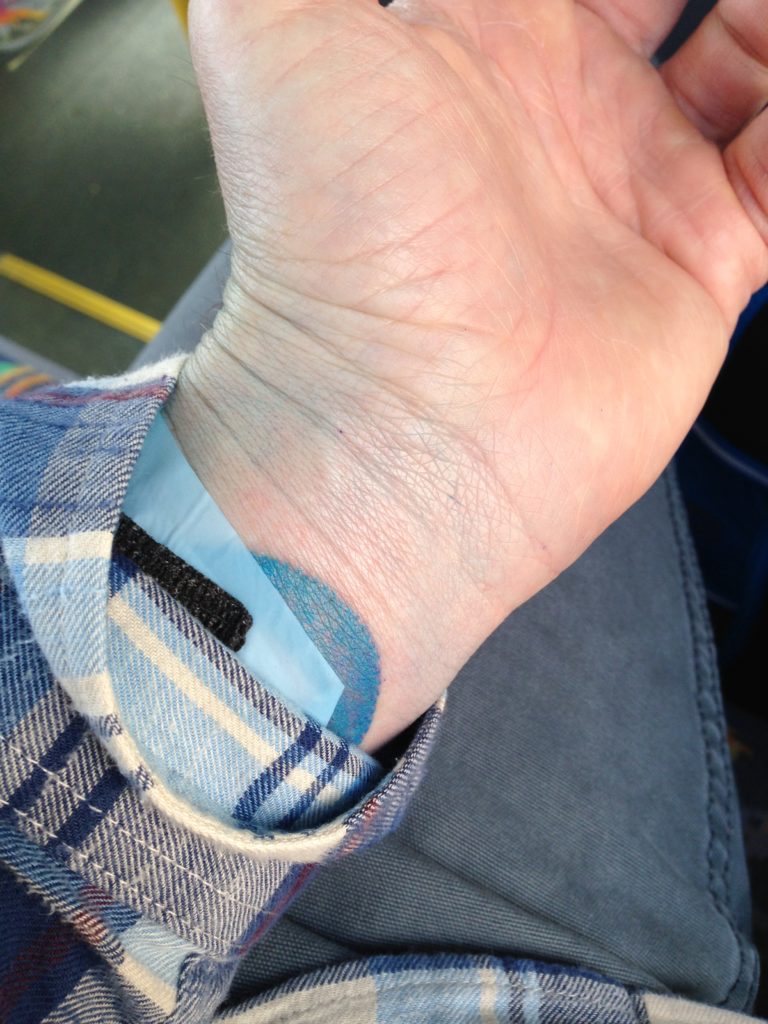 I liked the blue, but it didn't end up where I wanted. Mikel agreed with this, too, and so in Feb 2017, again, while on tour, back into the seat I went, having the outlines of the figures shaded, to allow the blue to be sent farther into the background.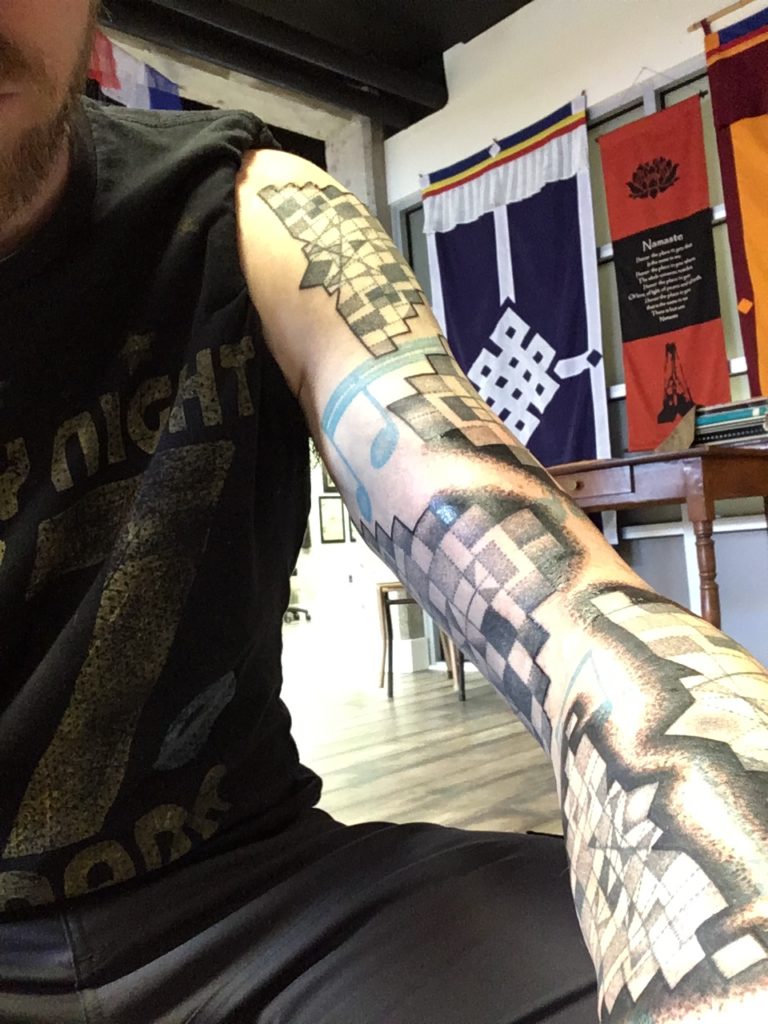 Both Mikel and I felt a lot better about this step in the process, and we just let it sit for a while. A lot longer than I'd anticipated, really. I had made plans to get worked on in April of 2017 when Mikel just happened to be in Victoria, but I'd developed a bit of a rash and we both decided it wasn't worth it to push things.
In the end, I took a bit of a break. I'd look at my arm, and it just felt incomplete, and disjointed, not entirely like what was going on in my head for some of the time. 
Time has a tendency to march on, and things happen along the way. Births, deaths, marriages, divorces, anniversaries, birthdays, major crises, minor crises, celebrations, etc. I just came up to my 40th birthday, and in the spirit of doing things for myself and myself only, I decided that a birthday tattoo was in order.
So in comes the fear part. Like I said, things felt incomplete on my arm. I knew in the back of my mind that there was a quasi-nuclear option – blacking out the negative space – but that it would take a certain amount of personal fortitude to carry it out, and more, a certain amount of fear in the acceptance of what that might look like for those around me, especially those nearest and dearest to me. I don't consider myself to be particularly hardcore. I'm not a heavy-metal type, not a real rock and roller, just a guy who likes tattoos.
I know that perception in others shouldn't matter, but at the same time, if I'm going to be spending any kind of time, whether it's public or intimate, with someone I care about, appearances do kinda matter. I mentioned to Kristy about the idea of filling in the negative space and she thought that would be a fine idea.
As it turns out, it was the best idea. 
Another summer, another Okanagan tour. I booked myself a rental car, had some space in the daily schedule, and made the trudge to Mikel's new shop in Kelowna.
We got straight down to work, filling in the blanks. I had expected it to be worse off the bat, but it really wasn't. I've seen videos of folks talking about their blackout sleeves, and read reports that it wasn't as bad as single needle or lining. They aren't wrong. It hurt, yeah, but not in the way I thought.
Mikel's a trooper. Between him and I, we just blasted through, stopping basically only to pee or grab a quick mouthful of food or some water.
About 5 hours in, that's when I started to hit the wall. Our time was coming to a close anyhow, as I had to get to work, and we were only about 80ish percent complete. My body finally decided that the tank was empty and enough was enough, so when Mikel put the tools down for a quick break, that was the end of things. 5 1/2 hours is a long time to sit and get blasted like this.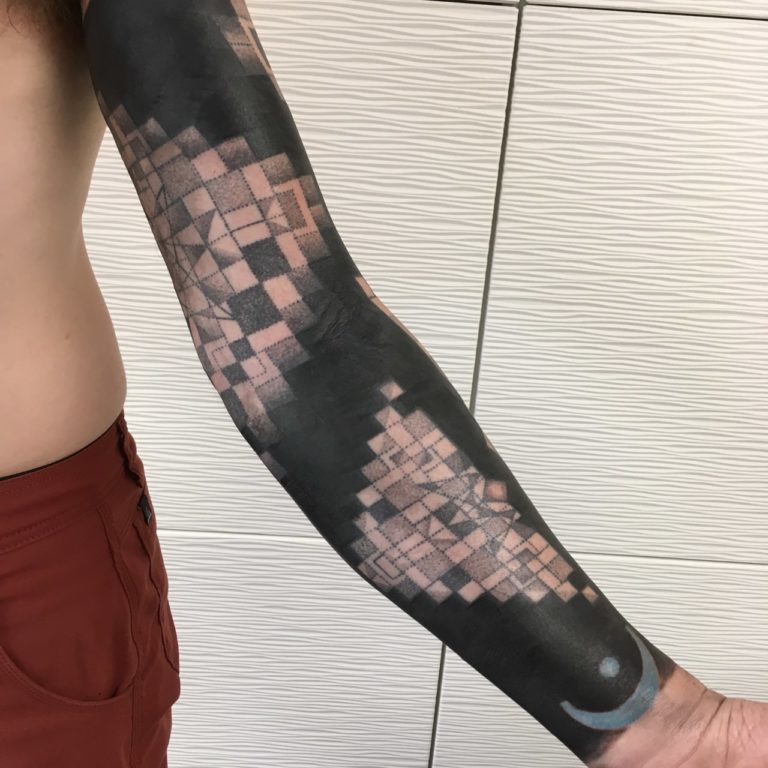 So that night, due to all the trauma I just caused myself, my arm swelled up by a good 30%. My elbow ballooned, and I still had a show to conduct. We all powered through, and in spite of the self-inflicted injury, I slept remarkably well. I did get a couple instances of very, very fat hand, so much so that it was quite painful and I could move the lymph back into my forearm. I spent a fair bit of time with my arm above my head, trying to drain things out.
I still had a shoulder cap to deal with though, and through sending pics to my sister about what I'd done, found out that she was going to be in Penticton on Saturday, which happened to coincide with another down spot in the schedule where I could sneak back to Kelowna. So I borrowed her truck, ran back, and got my shoulder capped.
An hour back in the chair, much realization that endorphins don't regenerate that quickly, and lo and behold, it's done.
It's bold. Like, really bold. And you know what? I LOVE IT. (yeah, I can hear you saying "well you'd better love it because it's not coming off" – I gotcha.)
This sleeve seems to confuse people. My poor dad got to see it in its full swollen glory on my birthday, the day after it had been done (it got even fatter the next day). He had no idea what to make of it. Reactions so far have been positive (at least to my face), and certainly, for my kids, there's been an adjustment period. People are drawn to it, not knowing what it is they're looking at. A sleeve is one thing – they're fairly common. A black (or mostly black) sleeve, on the other hand, seems to be confounding. 
Healing has been interesting – I've been shedding what Mikel called "black cornflakes" all over the place. I'm almost done the first molt off of the second session, and there's a little residual flakiness just as things finish settling in and the skin heals up a little better. My arm has returned to its usual size, and aside from some ouchiness in my shoulder (just some expected bruising), I'm good to go. I know there's some touch-up work to be done, which I think will take place later this fall (yay, we get to redo the elbow!). 
I'm so thankful to Mikel for his steady hand, calming influence, and artistry through this process. Thankful as well to Kristy, who has way better artistic sense than I do, and as a gentle guide.